About Elberton
Founded in 1790, Elbert County has a colorful history dating back to Colonial Georgia and the American Revolution. The City of Elberton was founded in 1803, and until 1889 the area's economy was largely dependent upon agriculture. At that time, Dr. Nathaniel Long opened the area's first commercial quarry and manufacturing plant, and with railroads providing passenger and freight service to the area, Elberton began to grow tremendously around the granite industry.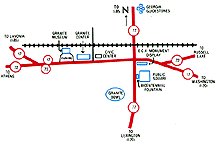 Elberton's heritage as "the Granite Capital of the World" may be seen in many areas of the community from memorials recognizing Revolutionary War heroes and founders to newer veterans' memorials, granite signs, granite homes, granite banks, a granite Civic Center, and of course the "Granite Bowl" stadium with a seating capacity of 20,000.
Elberton is located in Northeast Georgia midway between Interstates 85 and 20. Elberton is only 45 minutes from the Lavonia Exit of I-85 and only one hour from the Washington Exit of I-20.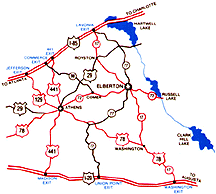 Elberton is centrally located to several cities offering airports and other transportation, accomodations, entertainment and campuses for post-secondary and continuing education.
City

Anderson, SC
Atlanta, GA
Augusta, GA
Athens, GA
Greenville, SC

Distance From Elberton

1 hour
2 hours and 15 minutes
1 hour and 15 minutes
50 minutes
1 hour and 15 minutes